Petra on the Go Mini Bus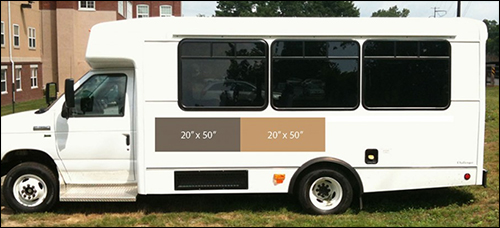 Advertise Your Company on Petra's Mini Bus!
When you support Petra Community Housing by purchasing an ad you are making a difference in the lives of low income seniors and individuals with a disability. The purchase of the mini bus is a result of intense fundraising over the past three years. As a nonprofit organization, the Petra budget cannot absorb the operational costs of the mini bus and is therefore continuing the fundraising efforts to support the annual operational costs. By providing transportation for these residents to local shopping venues and monthly social outings you are making an investment in their lives. Your advertisement demonstrates to the community that your business is actively engaged in improving the lives of our citizens.
The Petra on the Go bus is funded through donations and rider fees. In an effort to keep the cost to residents affordable, Petra endeavors to sell advertising space on the bus. We are looking for four businesses to each purchase a 20" x 50" Banner Ad installed on the side of the bus. If you are interested in supporting Petra in this way please click below.